A bit of a horrid word in this day and age but the CTC was founded on Campaigning and still is very
much at the forefront of Campaigning for the rights of Cyclists both at National and local level.

| | |
| --- | --- |
| LATEST CAMPAIGNING LINKS:>>>>>>>>>>>>> | |
| | July 2002. Dartmoor National park and Devon County Council produce a new hazard reporting card for cyclists. |
Many of the authorities have stated policies on Cycling, but unfortunately do not have any budgets to carry them out.
What little money there is is often wasted on uneccessary schemes, whilst areas of particular need go for years with no action.
The CTC need people on the ground who can tell local authorities what Cyclists needs are in their areas.
If you can help get in touch with us today!

VERGIN ON THE RIDICULOUS!!!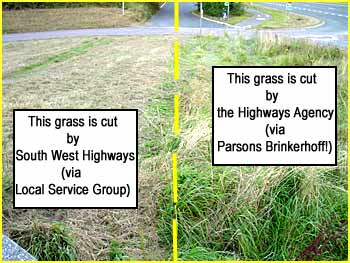 Here's the verge near Lee Mill by the cycle track. Attempts at getting Parson Brinkerhoff to cut back the brambles on the cycleway
are
failing, however the South West Highways are quite happily trimming back all the stuff in their domain.
Sadly this does not include the cycle track, or anything to the right of the Yellow line above which comes under A38 you see,
so sorry cyclists' you'll have to put up with getting smashed in the face by brambles, or use the A38!
<<Devon CC - HIGHWAY MAINTENANCE- Strategic Plan 2001-2006 - Click Here>>
<<Devon CC - LOCAL SERVICE GROUPS - Click here>>
<<USEFUL OR INTERESTING CAMPAIGNING LINKS Click Here>>

REALLY CR*P CYCLE LANES..... Yes they really spend £kkk's on this stuff!!