| | | | | | |
| --- | --- | --- | --- | --- | --- |
| | Denotes easy ride, Usually flat, short distance. | | Denotes moderate ride. A few hills, some pace required | | Denotes hard ride. Hills, some pace required, challenge |
| | |
| --- | --- |
| | Audax Events - NEWTON ABBOT |
| | Audax Events - SOUTH HAMS |
| | Audax Event - DARTMOOR - Super Hilly Ride |
WHAT ARE "AUDAX" EVENTS?
Audax rides are a fixed distance to be completed in a specific time limit, normally between an average speed of 15 and 30 kph. You ride at your own pace, either in a group or alone. Some events ( Dartmoor Devil) are quite ardous, some are easy ( Devon Delight).
During the ride you carry a card, which is stamped at various points on the route (Controls).

The CTC "Tourist Trials" are not AUDAX rides, and the time limits are less generous than on many Audax rides.
The events listed above are just the local rides in Devon. There are many event all over the South West, and in the UK. Visit the AUK sites below to find out more.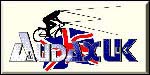 .....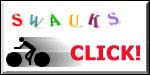 WHAT ARE "TOURIST TRIALS"?
Tourist Trials are rides of a fixed distance to be completed in a set time. There are few if any controls. Certificates are awarded to those who complete sucessfully.

WHAT IS DATC?
DATC - District Associations Touring Competition. There are points awarded for all rides, both Nationally and Locally. Visit the DATC website to see the exact rules. You need to ride as many different events as possible both home and away to maximise your points! ( This is not compulsory - most just ride the events they want for fun and enjoy the rides!)
CHECK OUT DATC INFO PAGE:

Other Events:
Freewheeling and Treasure Hunt. These are essentially fun events, but there are points to be won. They are not ardous in terms of distance, and suitable for all abilities. All these events are in addition to the CTC regular menu of weekly club rides.



DARTMOOR DEVIL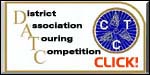 ....