Welcome to West Devon Section C.T.C. covering the areas North of Plymouth and up to Okehampton.
West Devon have a range of Sunday and weekday rides, and also spend a lot of time supporting
Audax events both locally and away.
Contacts: Mike Hunting or
Linda Johnston - 01822-618446


Click the camera for West Devon section pictures.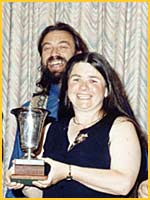 Mike hunting & Linda Johnston with DATC trophy and below flying on the Trice X2!.