DARTMOOR DEVIL 2005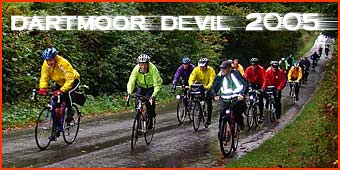 Temporary web pages - full report and photos here soon: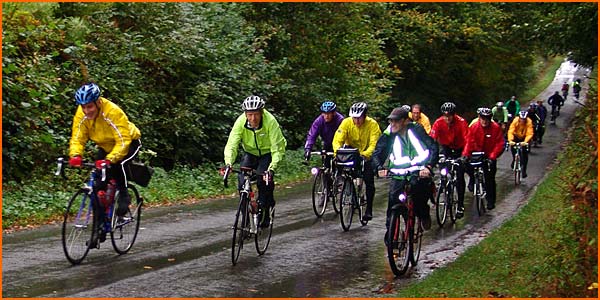 Note: Movies below will be very slow to load on Dial-up 56k - DSL / ISDN recommended.
8.30 am starters - very grey and damp so not much chance of crisp photos!


However there are some video clips available and we can send a VHS or CD of the clip!


Martyn and Adam Holmes at the start.


The 2005 event was no dissapointment - the largest entry ever. Despite raising the numbers to 200 and having two starts we were still oversubscribed!

On the day 216 entries were taken, 165 started, and 142 finished - a fantastic result on a blustery Autumn day with a very wet start and a fairly stiff route!



AUK rides take the shortest distance between two points
(sometimes), which is why the ride set off in completely the opposite direction - well you can't miss the 1:5 joy of Hind Street hill as a start to the day.




Craig McAlpine - Hind Street.


Stage:1
The first few miles this year were fairly flat, just a steady push against a headwind and steady rain, until the steep climb up to Ilsington.
Then it was undulating along slippery leafy lanes before rolling down to Ashburton.
The old A38 to Buckfast was followed by the long drag up to Cross Furzes to Pete Luxtons van - cake wagon!


Matyn Holmes - Hind Street.
| | | | | | | | | | |
| --- | --- | --- | --- | --- | --- | --- | --- | --- | --- |
| | | | | | | | | | |